We love our work, you'll love our work.
Sole Landscapes – assisting people within the wider Wellington region to enhance and beautify their outdoor areas using extensive landscape knowledge. Our company is a family business, reborn four years ago. We love meeting new clients and bringing them into our team to make the most of their outdoor spaces!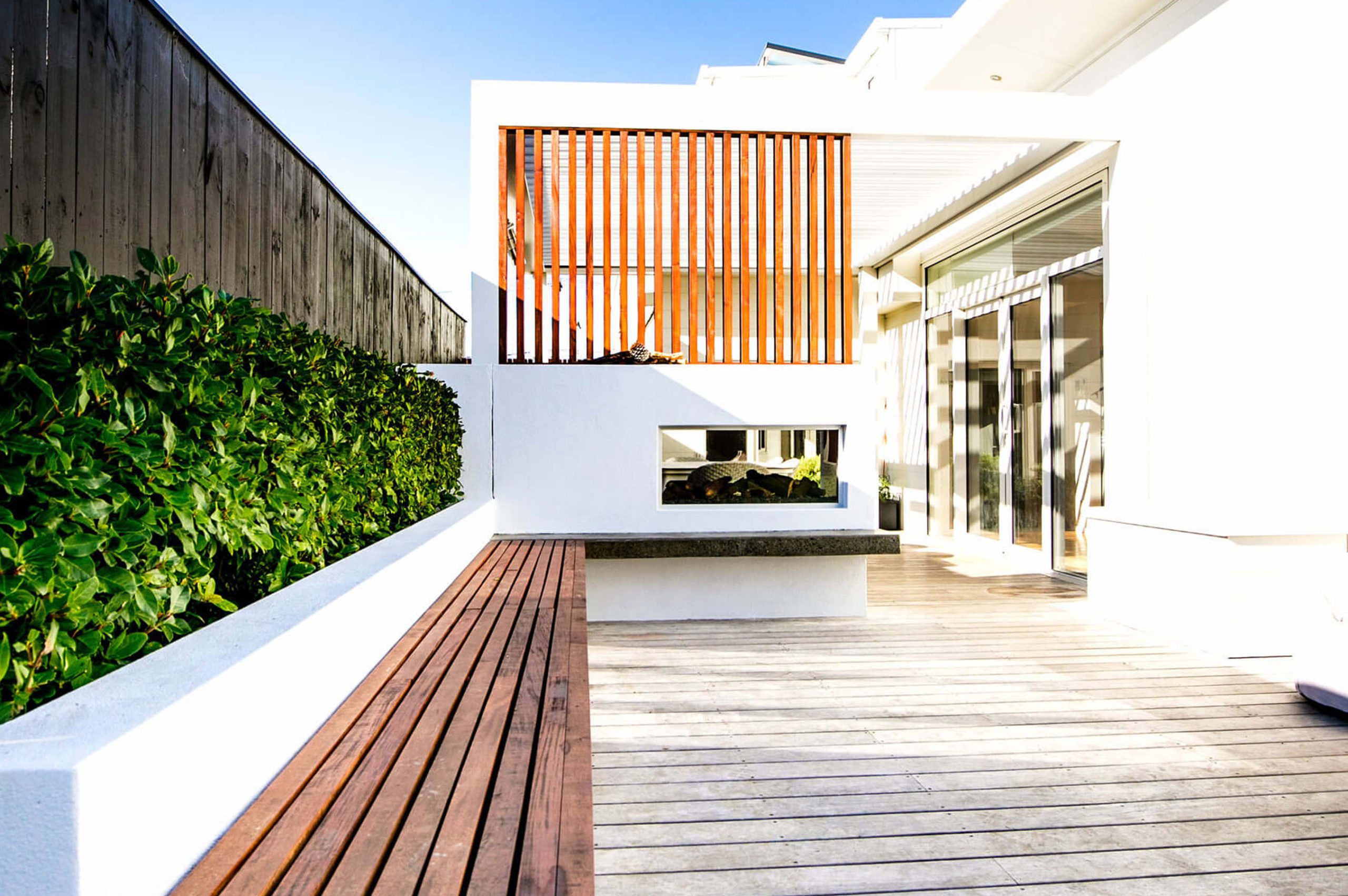 SEATOUN | Outdoor Living
Nestled in the village of Seatoun and covered by a louvred roof, this cozy and comfortable outdoor dining space is constructed to ensure the outdoor dining experience seamlessly tied into the interior kitchen.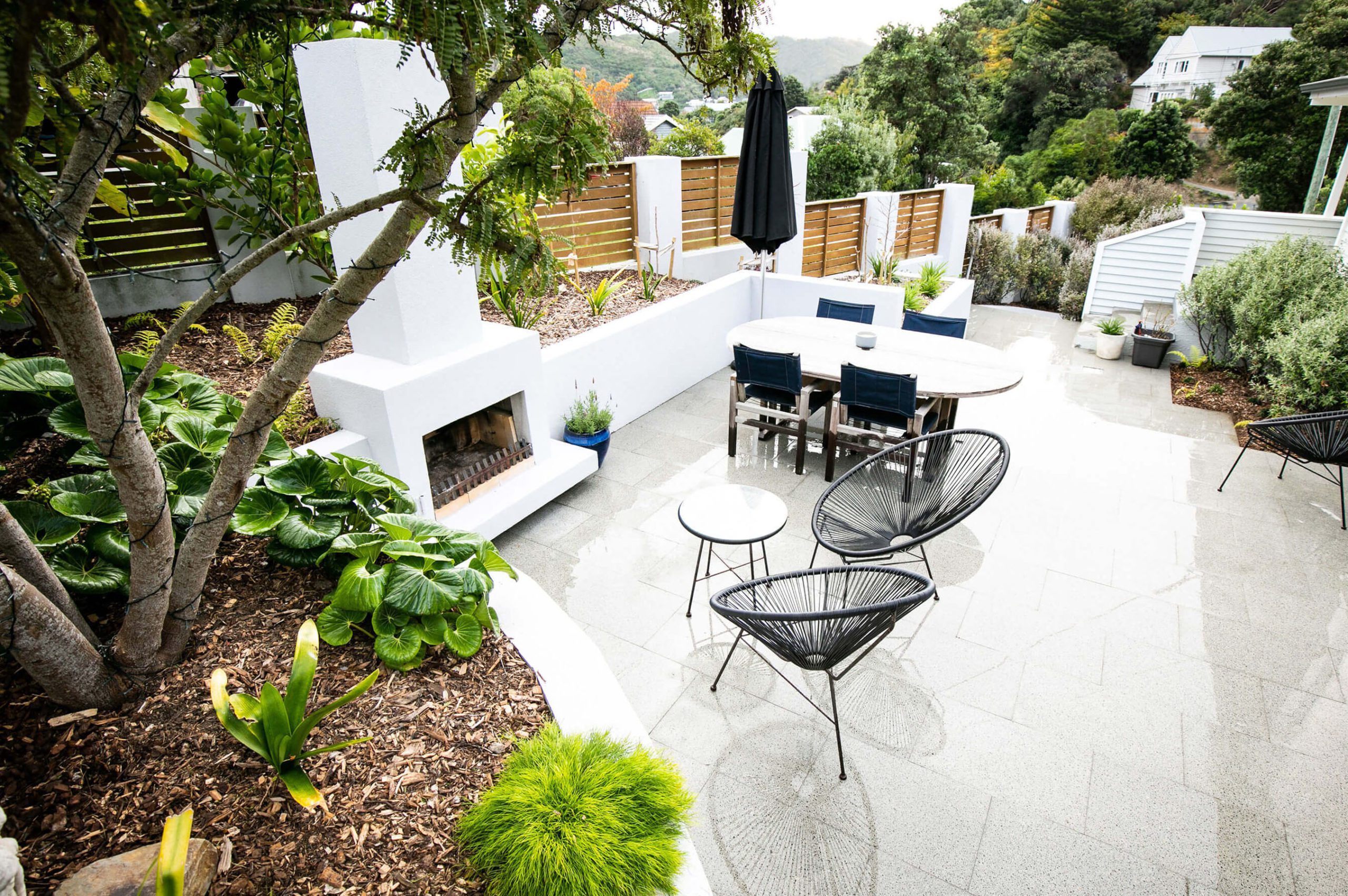 ISLAND BAY | Courtyard Creation
Sole Landscapes was commissioned by our lovely clients to renovate a space with limited opportunity for entertainment and gardens overrun with weeds, and subsequently, endless maintenance.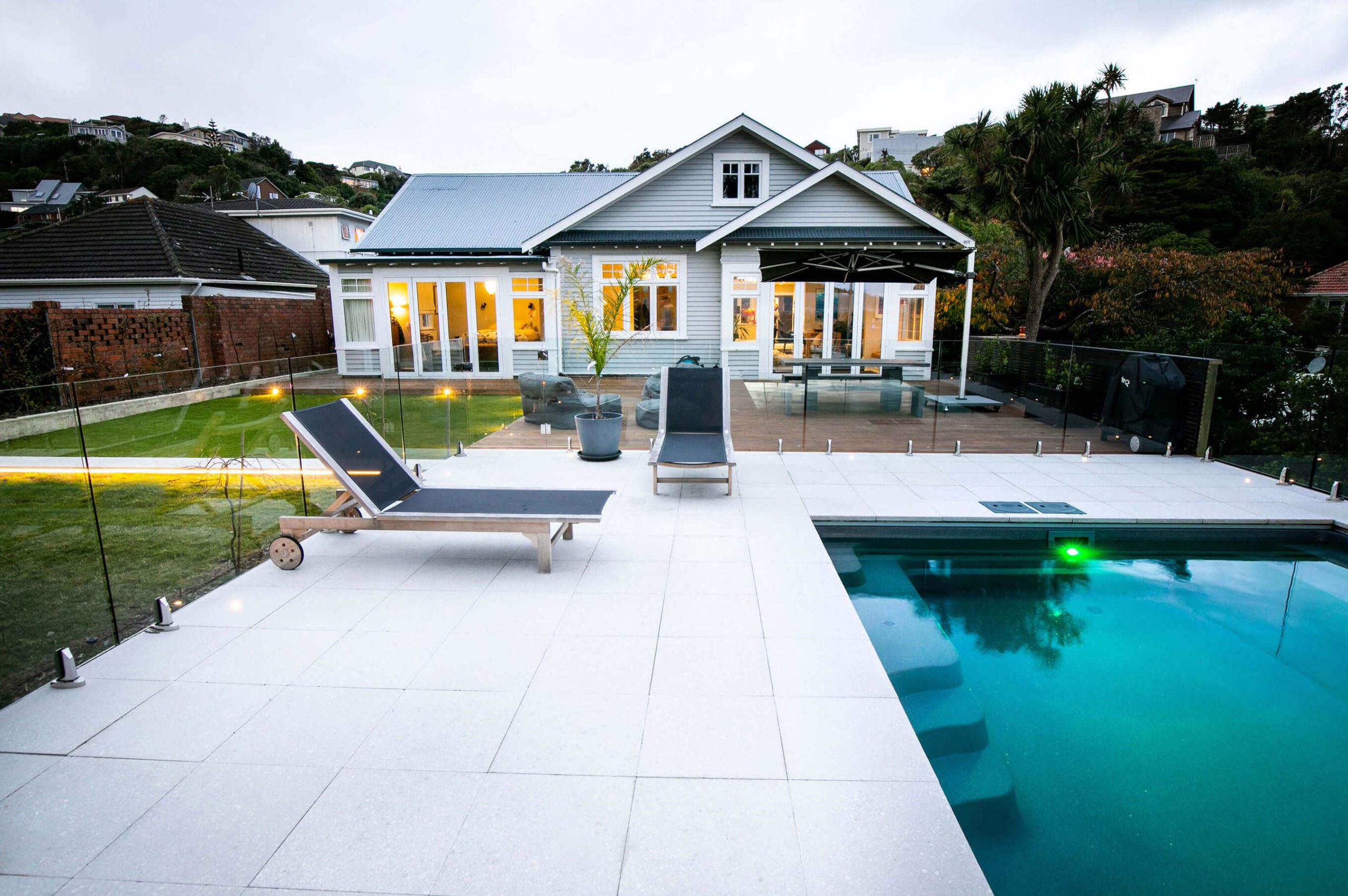 KHANDALLAH | Lifestyle Landscaping
Positioned on a unique elevated section in the heart of Khandallah, the team were presented the opportunity to undertake a complete renovation of the back yard that was essentially a blank canvas of massive opportunity.
We've Been Landscaping For Over 5 Years
Officially founded by Jono and Lauren Sole in 2015, Sole Landscapes has origins back to 1986 under the previous title of Sole Gardening & Landscaping. With a 'family first' mindset instilled in our team, the company's main focus since incorporation has been to fully appreciate and meet the needs of the people of the wider Wellington region.
"The tagline of Sole Landscapes is; "We love our work; you'll love our work" and we can confirm that this is entirely true.
We have used the Sole Landscapes team twice now (at both our first and subsequent properties) and have been so stoked with their work every time. They are knowledgeable about everything from the best planting for your location and environment to how to fully maximise the best use of space and sun to meet your goals and create amazing outdoor spaces.
Thanks to Jono and the rest of the Sole Landscapes crew for your professionalism and skills to help us bring our outdoor vision to life!"
"Sole Landscapes is simply the most upfront, transparent and trustworthy contractors we've worked with. On a 12-month renovation project of our villa in Island Bay, Jono and his team were the only contractors on the entire project to deliver what they promised, when they promised and for the price they promised. The thing I admire and respect the most is that when anything on the project had to change, they communicated about the scope change early and openly. It sounds cliche but we felt at ease because there were so few uncertainties due to their communication. There were no surprises. Which is a rare thing when renovating a house and working with contractors. When we get to our next project, Sole Landscapes will be the people we call because we trust them to deliver what they say, when they say for the price they say."
"Our new build was completed just before lockdown. We have a beachfront property on a corner site of a busy road in Waikawa Bay. Our property needed fencing, we wanted security in the backyard and privacy at the front all without losing our spectacular view! We also wanted a deck that was large enough to be functional but not detract from the front of the house.
Once we agreed to a plan and timing we left the property in their capable hands to complete the work for us, which included accommodating some of the team 9! Jono and Jack led a great team who worked all the hours they could and actually completed our build earlier than planned.
Their attention to detail and workmanship is exceptional. We are so happy with the fencing and deck, everything surpassed our expectations and we are looking forward to enjoying summer BBQs by the beach with our whanau."
"The Sole landscapes team from start to finish were a skilled and very friendly team who I would thoroughly recommend. We were delighted with the outcome which they managed in a very timely manner and left the place immaculate. After discussing some other options for our space with Jono, it was clear we were dealing with a professional and I look forward to having them back again soon."
"I asked Sole Landscapes to help with a tricky bank that was exposed and eroding - I needed a small retaining wall to be built and planting that would help prevent erosion, be friendly to birds and bees, and would look good as well. The job was completed on budget and was exactly what I hoped for and more. The natives the Sole Landscapes team chose are perfect and the bird life as a result is amazing, especially in summer when the flaxes are in flower. I am so pleased and I highly recommend Jono and his team."
"The team at Sole Landscapes recently did a few jobs for us at our rental property in Tawa. Part of the job was rectifying some damage from the previous builders and required an engineer designed retaining wall."
"Sole Landscapes were totally professional in all their work from quoting, to dealing with the engineers, to liaising with our tenants. We were stoked to hear from both lots of tenants that the Sole Landscapes staff were so polite, friendly and courteous as we also treat our tenants like family. We didn't need to worry about the engineer or building inspector's sign off as the work was carried out 100% to plan."
"I would not hesitate to use Sole Landscapes again and highly recommend them to others looking for quality landscape design and build work."
"We have used Sole Landscapes three times now for various projects on our property. They are very consultative in their approach and their work is of the highest standard. I have no hesitation in recommending them for any land-based projects."
Follow us on Instagram to see our latest projects!